Orlando
VW North
1050 Lee Road
Orlando, FL 32810
866-617-6255
www.OrlandoVWNorth.com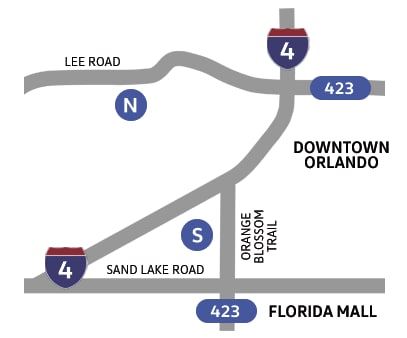 Orlando
VW South
5474 S. Orange Blossom Trail
Orlando, FL 32839
866-624-8331
www.OrlandoVWSouth.com
Welcome to Orlando Volkswagen
If you've been searching for a reputable Volkswagen dealer in the Orlando area, the professionals at Orlando Volkswagen North and South would be happy to assist you. Whether you're looking to buy a new car or have your vehicle serviced, we proudly offer two of the best-rated Volkswagen dealerships in central Florida and we're confident that you'll have an exceptional experience at either one.
When you visit our locations on Orange Blossom Trail (South) and Lee Road (North), you'll find a great selection of inventory and competitively low prices, along with highly reviewed service centers where VW certified mechanics are at your disposal. Further enhancing the experience, you'll be given red-carpet treatment by our superior staff, who've been known to go above and beyond the call of duty to fulfill our customers' needs.

In terms of inventory, all of your favorite VWs are available at Orlando Volkswagen. Pick either of our stores and you'll find a comprehensive selection that includes popular nameplates like the iconic Beetle, award-winning Golf, high-class Passat and spacious Tiguan. Plus, in addition to offering one of the largest collections of Volkswagens for sale in Orlando, we also have a wide-ranging selection of used VW cars and SUVs for sale, as well as models from other well-known manufacturers.
Along with inventory, five-star repair work is a big part of what makes our guys the leading Volkswagen dealers in Orlando. From simple oil changes and belt replacements to complex transmission repairs and all services in between, our manufacturer-trained technicians have the tools and know-how to help you keep your vehicle in excellent health for the long haul. We also have a large collection of OEM parts and accessories on hand, so you can expect that we're using only the best products on your cherished VW.
Choose Orlando Volkswagen over other Central Florida Volkswagen dealers and you won't be disappointed. We're proud to offer two great locations under one reputable name. Orlando Volkswagen is known for quality, honesty and professionalism, and we continuously strive to maintain our status as one of central Florida's most upright automotive groups.
We'd love the opportunity to prove to you that visiting a car dealership can indeed be an enjoyable experience, so please stop by one of our Volkswagen dealerships in Orlando today!